"Monarch Park"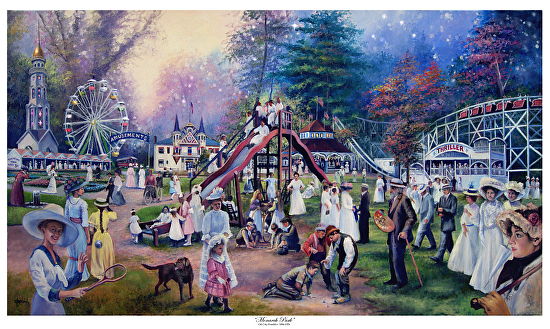 Monarch Park
1896-1926
In the early 1900's, quietly nestled in the forested hills between Franklin and Oil City, Pennsylvania, laid a hidden jewel called Monarch Park. When it came to socializing, having fun and excitement, the park was second to none. Old deeds for this land in Cranberry Township bear the notation "The Seven Springs Deer Lick". This was an important drawing card in that era at the turn of the century when mineral springs and spas peaked in popularity. In addition to the freshwater springs, there were a wide variety of attractions to augment your experience. The park boasted a large roller coaster aptly named Thriller, Merry-Go-Round, Ferris wheel, Miniature Train Ride, The Whirlpool, The Aero Swing and amusements. The children's playground featured a large double slide and many swings and see-saws dotted the landscape. There were four bowling alleys, an amusement center, and a very large ornate dance hall which featured some of the finest bands in the area. An open air bandstand featured a variety of concerts and shows for the crowd's entertainment. Well groomed flower gardens and precisely trimmed evergreens were in abundance throughout the park's 60 acres, offering a feast of color to one's eyes. One of the most recognizable of all its structures was a fully illuminated 120 ft. Electric Tower complete with decorative architecture and stained glass windows. At its base was a gazebo, a very popular spot for lovers to meet, especially after dark when the silent movies would be projected on a large outdoor screen. In addition to all this, there was a spacious fine dining hall surrounded by a U-shaped balcony. There were many amusement and refreshment booths throughout the grounds where you could grab a quick bite to eat and maybe try your hand at Parisian Darts and win your date a stuffed animal.
Smithman Park (later named Monarch Park) was founded in 1896 and was the brainchild of John B. Smithman. He created the park in order to boost his streetcar operation out of Oil City and Franklin. It was not uncommon to find anywhere between 10-15 thousand patrons on any given Saturday during the summer months. With the advent of privately owned automobiles and the collapse of Big Rock Bridge in Franklin, the park officially closed operations in the year 1926. If you go there today, you will only find a few scant reminders of what was once a hustling and bustling amusement park. I have always held a fascination with this by-gone era and wanted my painting to preserve the style and fashions of the Edwardian period. I used artistic license to condense much of the expansive park into just one image. The large double slide serves well as the centerpiece and the artwork evolved from there. I also tried to use as many "actual" vintage photos to capture "original moments" and paint them in living color. I found out rather quickly that my canvas was simply too small to illustrate everything there was to do at this magical park which, quite literally, was built in the middle of nowhere….. I hope you enjoy it at least half as much as I did in researching and painting it.
–Fred Carrow
To learn more about this piece or to purchase please click here
_________________________________________________________________________________________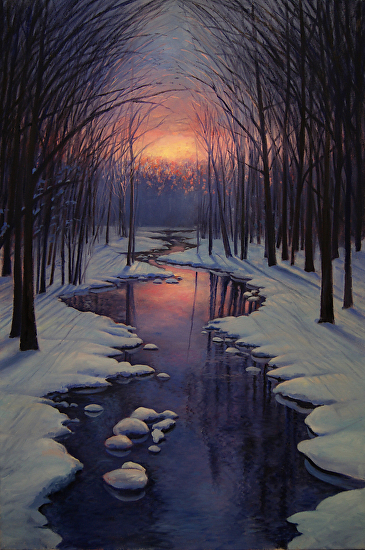 "Winter Cathedral"
___________________________________________________________________________________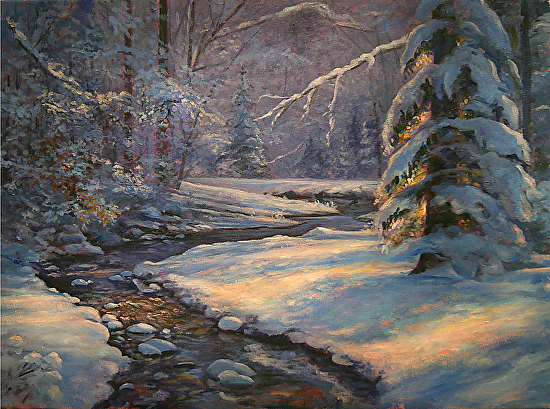 "Winter Pine and Stream"
______________________________________________________________________________________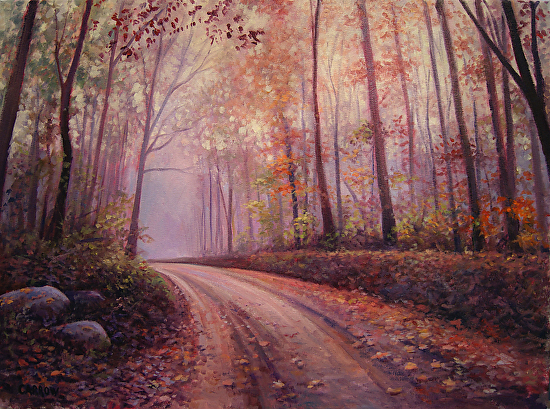 "Autumn Road"
___________________________________________________________________________________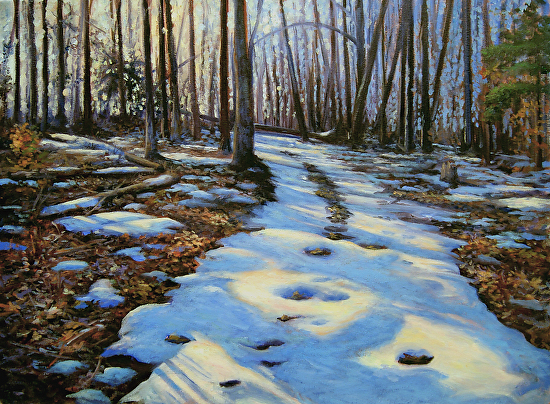 "Snowy Road in Fall"
________________________________________________________________________________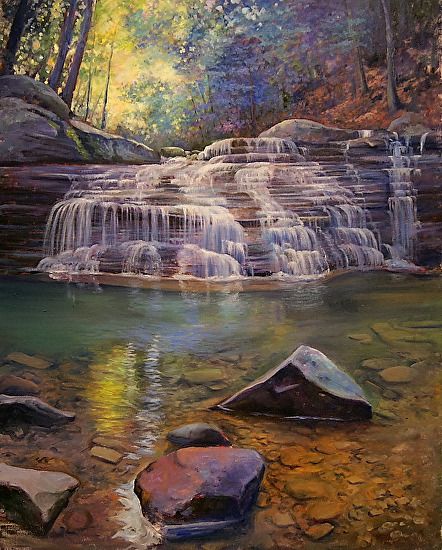 "Freedom Falls in Summer"
_____________________________________________________________________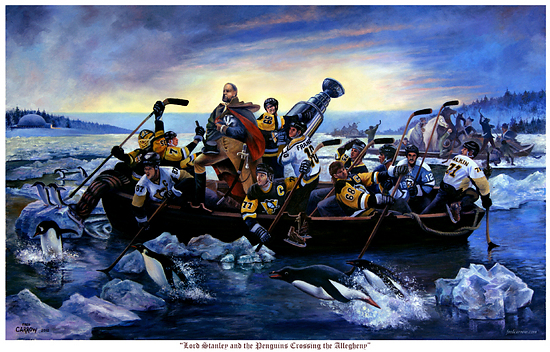 "Lord Stanley
and the
Penguins Crossing the Allegheny"
Legend has it they had come down from the north, in search of new territory to play a foreign game where players wore ice skates and used wooden sticks to slap a puck into a net. With peculiar names like Evgeni, Jean, and Jaromir, they formed an expedition to take their game south. They would be led by a great man they revered and knew as Lord Stanley of Preston. According to folklore, "penguins would guide them" on a journey over hundreds of miles of rough terrain and ice laden rivers. They were to follow the penguins until they had reached a "magical place where three rivers met". It was here they would find a large "igloo made of ice surrounded by three bars of gold". Along the water routes, they encountered extreme conditions which made the journey nearly impossible, but, with hard work and determination, they finally reached their goal. A man known as Barrasso would tend the bow of the boat, preventing any ice from slipping past and damaging it. Crosby, Coffey and Jagr would man the oars on the port side. Malkin would command the rudder, steering the ship clear of any danger. Kehoe, Pronovost, Stevens and Mullen would team up to power the starboard side of the vessel. Lord Stanley, who introduced the highly coveted award that would later become known as "The Stanley Cup", would serve as captain. The guardians of Stanley's Cup were Lemieux and Francis, who held it high and proud, for the entire world to see.
Lord Stanley was first to set foot on the new ground and, upon entering the arena, tossed his hat onto the ice and claimed "the Igloo" and the "Golden Triangle" as home to these mighty penguins. A hockey team was established and a community would rise around this group of skaters to become known as Pittsburgh, "The City of Champions". Whether rooted in fact or just plain fiction, one tale that has been passed from one generation to another goes something like this… after Lord Stanley had thrown his hat onto the ice, his pet badger, Bob, scampered out, jumped into the hat, slid clear across the ice and into the goal, where he shouted as loud as his little badger voice could muster…
"…it's a Great Day for Hockey!"
by Fred Carrow
Parodied from German American artist Emanuel Leutze's oil on canvas painting "Washington Crossing the Delaware" 1851.
To purchase or learn more please click here

________________________________________________________________________________

_________________________________________________________________________




Thanks for viewing and God Bless,
Fred Carrow

Phone 814-676-5470

You can also order by sending Check or Money Order to:

Fred Carrow
145 Melat Lane
Oil City, PA 16301
//
<![CDATA[ var LEO_HIGHLIGHTS_INFINITE_LOOP_COUNT = 300; var LEO_HIGHLIGHTS_MAX_HIGHLIGHTS = 50; var LEO_HIGHLIGHTS_IFRAME_TOP_ID = "leoHighlights_top_iframe"; var LEO_HIGHLIGHTS_IFRAME_BOTTOM_ID = "leoHighlights_bottom_iframe"; var LEO_HIGHLIGHTS_IFRAME_DIV_ID = "leoHighlights_iframe_modal_div_container"; var LEO_HIGHLIGHTS_IFRAME_TOTAL_COLLAPSED_WIDTH = 520; var LEO_HIGHLIGHTS_IFRAME_TOTAL_COLLAPSED_HEIGHT = 391; var LEO_HIGHLIGHTS_IFRAME_TOTAL_EXPANDED_WIDTH = 520; var LEO_HIGHLIGHTS_IFRAME_TOTAL_EXPANDED_HEIGHT = 665; var LEO_HIGHLIGHTS_IFRAME_TOP_POS_X = 0; var LEO_HIGHLIGHTS_IFRAME_TOP_POS_Y = 0; var LEO_HIGHLIGHTS_IFRAME_TOP_WIDTH = 520; var LEO_HIGHLIGHTS_IFRAME_TOP_HEIGHT = 294; var LEO_HIGHLIGHTS_IFRAME_BOTTOM_POS_X = 96; var LEO_HIGHLIGHTS_IFRAME_BOTTOM_POS_Y = 294; var LEO_HIGHLIGHTS_IFRAME_BOTTOM_COLLAPSED_WIDTH = 425; var LEO_HIGHLIGHTS_IFRAME_BOTTOM_COLLAPSED_HEIGHT = 97; var LEO_HIGHLIGHTS_IFRAME_BOTTOM_EXPANDED_WIDTH = 425; var LEO_HIGHLIGHTS_IFRAME_BOTTOM_EXPANDED_HEIGHT = 371; var LEO_HIGHLIGHTS_SHOW_DELAY_MS = 300; var LEO_HIGHLIGHTS_HIDE_DELAY_MS = 750; var LEO_HIGHLIGHTS_SHOW_DELAY_NO_UNDER_MS = 850; var LEO_HIGHLIGHTS_BACKGROUND_STYLE_DEFAULT = "transparent none repeat scroll 0% 0%"; var LEO_HIGHLIGHTS_BACKGROUND_STYLE_HOVER = "#f5f500 none repeat scroll 0% 0%"; var LEO_HIGHLIGHTS_ROVER_TAG = "711-36858-13496-14"; createInlineScriptElement("var%20LEO_HIGHLIGHTS_DEBUG%20%3D%20%20%20%20%20%20%20%20%20%20%20%20%20%20%20%20%20%20%20%20%20%20false%3B%0Avar%20LEO_HIGHLIGHTS_DEBUG_POS%20%3D%20%20%20%20%20%20%20%20%20%20%20%20%20%20%20%20%20%20false%3B%0A%20%20%20%0Avar%20_leoHighlightsPrevElem%20%3D%20null%3B%0Avar%20_leoHighlightsSnoozed%20%3D%20false%3B%0A%0A/**%0A%20*%20Checks%20if%20the%20passed%20in%20class%20exists%0A%20*%20@param%20c%0A%20*%20@return%0A%20*/%0Afunction%20_leoHighlightsClassExists%28c%29%20%7B%0A%20%20%20return%20typeof%28c%29%20%3D%3D%20%22function%22%20%26%26%20typeof%28c.prototype%29%20%3D%3D%20%22object%22%20?%20true%20%3A%20false%3B%0A%7D%0A%0A/**%0A%20*%20Checks%20if%20the%20firebug%20console%20is%20available%0A%20*%20@param%20c%0A%20*%20@return%0A%20*/%0Afunction%20_leoHighlightsFirebugConsoleAvailable%28c%29%20%7B%0A%20%20%20try%0A%20%20%20%7B%0A%20%20%20%20%20%20if%28_leoHighlightsClassExists%28_FirebugConsole%29%20%26%26%20%0A%20%20%20%20%20%20%20%20%20window.console%20%26%26%20console.log%20%26%26%20%0A%20%20%20%20%20%20%20%20%20%28console%20instanceof%20_FirebugConsole%29%29%0A%20%20%20%20%20%20%7B%0A%20%20%20%20%20%20%20%20%20return%20true%3B%0A%20%20%20%20%20%20%7D%0A%20%20%20%7D%0A%20%20%20catch%28e%29%7B%7D%0A%20%20%20%0A%20%20%20return%20false%3B%0A%7D%20%0A%0A%0A/**%0A%20*%20General%20method%20used%20to%20debug%20exceptions%0A%20*%20%0A%20*%20@param%20location%0A%20*%20@param%20e%0A%20*%20@return%0A%20*/%0Afunction%20_leoHighlightsReportExeception%28location%2Ce%29%0A%7B%0A%20%20%20try%0A%20%20%20%7B%0A%20%20%20%20%20%20if%28_leoHighlightsFirebugConsoleAvailable%28%29%20||LEO_HIGHLIGHTS_DEBUG%29%0A%20%20%20%20%20%20%7B%0A%20%20%20%20%20%20%20%20%20var%20logString%3Dlocation%2B%22%3A%20%22%2Be%2B%22%5Cn%5Ct%22%2Be.name%2B%22%5Cn%5Ct%22%2B%0A%20%20%20%20%20%20%20%20%20%20%20%20%20%20%20%20%20%20%20%20%20%20%20%28e.number%260xFFFF%29%2B%22%5Cn%5Ct%22%2Be.description%3B%0A%20%20%20%20%20%20%20%20%20if%28_leoHighlightsFirebugConsoleAvailable%28%29%29%0A%20%20%20%20%20%20%20%20%20%7B%0A%20%20%20%20%20%20%20%20%20%20%20%20console.error%28logString%29%3B%0A%20%20%20%20%20%20%20%20%20%20%20%20console.trace%28%29%3B%0A%20%20%20%20%20%20%20%20%20%7D%0A%20%20%20%20%20%20%7D%0A%20%20%20%20%20%20%0A%20%20%20%20%20%20if%28LEO_HIGHLIGHTS_DEBUG%29%0A%20%20%20%20%20%20%20%20%20alert%28logString%29%3B%20%20%20%20%20%20%0A%20%20%20%7D%0A%20%20%20catch%28e%29%7B%7D%0A%7D%0A%0A/**%0A%20*%20This%20will%20log%20a%20string%20to%20the%20firebug%20console%0A%20*%20%0A%20*%20@param%20str%0A%20*%20@return%0A%20*/%0Afunction%20_leoHighlightsDebugLog%28str%29%0A%7B%20%20%20%0A%20%20%20try%0A%20%20%20%7B%0A%20%20%20%20%20%20if%28_leoHighlightsFirebugConsoleAvailable%28%29%29%0A%20%20%20%20%20%20%7B%0A%20%20%20%20%20%20%20%20%20console.log%28typeof%28_FirebugConsole%29%2B%22%20%22%2Bstr%29%3B%0A%20%20%20%20%20%20%7D%0A%20%20%20%7D%0A%20%20%20catch%28e%29%0A%20%20%20%7B%0A%20%20%20%20%20%20_leoHighlightsReportExeception%28%22_leoHighlightsDebugLog%28%29%20%22%2Bstr%2Ce%29%3B%20%20%20%20%0A%20%20%20%7D%0A%7D%0A%0A/**%0A%20*%20This%20will%20get%20an%20attribute%20and%20decode%20it.%0A%20*%20%0A%20*%20@param%20elem%0A%20*%20@param%20id%0A%20*%20@return%0A%20*/%0Afunction%20_leoHighlightsGetAttrib%28elem%2Cid%29%0A%7B%0A%20%20%20try%0A%20%20%20%7B%0A%20%20%20%20%20%20var%20val%3Delem.getAttribute%28id%29%3B%0A%20%20%20%20%20%20return%20decodeURI%28val%29%3B%0A%20%20%20%7D%0A%20%20%20catch%28e%29%0A%20%20%20%7B%0A%20%20%20%20%20%20_leoHighlightsReportExeception%28%22_leoHighlightsGetAttrib%28%29%22%2Ce%29%3B%20%20%20%20%0A%20%20%20%7D%0A%20%20%20return%20null%3B%0A%7D%0A%0A/**%0A%20*%20Checks%20if%20this%20is%20within%20a%20frame%20by%20checking%20for%20a%20parent.%0A%20*%20%0A%20*%20@return%0A%20*/%0Afunction%20_leoHighlightsIsFrame%28%29%0A%7B%0A%20%20%20try%0A%20%20%20%7B%20%20%20%0A%20%20%20%20%20%20return%20%28window%21%3Dtop%29%0A%20%20%20%7D%0A%20%20%20catch%28e%29%0A%20%20%20%7B%0A%20%20%20%20%20%20_leoHighlightsReportExeception%28%22_leoHighlightsIsFrame%28%29%22%2Ce%29%3B%20%20%20%20%20%0A%20%20%20%7D%0A%20%20%0A%20%20%20return%20false%3B%0A%7D%0A%0A/**%0A%20*%20This%20is%20a%20dimensions%20object%0A%20*%20%0A%20*%20@param%20width%0A%20*%20@param%20height%0A%20*%20@return%0A%20*/%0Afunction%20LeoHighlightsDimension%28width%2Cheight%29%0A%7B%0A%20%20%20try%0A%20%20%20%7B%0A%20%20%20%09this.width%3Dwidth%3B%0A%20%20%20%09this.height%3Dheight%3B%0A%20%20%20%09this.toString%3Dfunction%28%29%20%7B%20return%20%28%22%28%22%2Bthis.width%2B%22%2C%22%2Bthis.height%2B%22%29%22%29%3B%7D%3B%0A%20%20%20%7D%0A%20%20%20catch%28e%29%0A%20%20%20%7B%0A%20%20%20%09_leoHighlightsReportExeception%28%22new%20LeoHighlightsDimension%28%29%22%2Ce%29%3B%20%20%20%09%0A%20%20%20%7D%09%0A%7D%0A%0A/**%0A%20*%20This%20is%20a%20Position%20object%0A%20*%20%0A%20*%20@param%20x%0A%20*%20@param%20y%0A%20*%20@return%0A%20*/%0Afunction%20LeoHighlightsPosition%28x%2Cy%29%0A%7B%0A%20%20%20try%0A%20%20%20%7B%0A%20%20%20%09this.x%3Dx%3B%0A%20%20%20%09this.y%3Dy%3B%0A%20%20%20%09this.toString%3Dfunction%28%29%20%7B%20return%20%28%22%28%22%2Bthis.x%2B%22%2C%22%2Bthis.y%2B%22%29%22%29%3B%7D%3B%0A%20%20%20%7D%0A%20%20%20catch%28e%29%0A%20%20%20%7B%0A%20%20%20%09_leoHighlightsReportExeception%28%22new%20LeoHighlightsPosition%28%29%22%2Ce%29%3B%20%20%20%09%0A%20%20%20%7D%09%0A%7D%0A%0Avar%20LEO_HIGHLIGHTS_ADJUSTMENT%20%3D%20new%20LeoHighlightsPosition%283%2C3%29%3B%0Avar%20LEO_HIGHLIGHTS_IFRAME_TOP_SIZE%20%3D%20new%20LeoHighlightsDimension%28LEO_HIGHLIGHTS_IFRAME_TOP_WIDTH%2CLEO_HIGHLIGHTS_IFRAME_TOP_HEIGHT%29%3B%0Avar%20LEO_HIGHLIGHTS_IFRAME_BOTTOM_HOVER_SIZE%20%3D%20new%20LeoHighlightsDimension%28LEO_HIGHLIGHTS_IFRAME_BOTTOM_COLLAPSED_WIDTH%2CLEO_HIGHLIGHTS_IFRAME_BOTTOM_COLLAPSED_HEIGHT%29%3B%0Avar%20LEO_HIGHLIGHTS_IFRAME_BOTTOM_CLICK_SIZE%20%3D%20new%20LeoHighlightsDimension%28LEO_HIGHLIGHTS_IFRAME_BOTTOM_EXPANDED_WIDTH%2CLEO_HIGHLIGHTS_IFRAME_BOTTOM_EXPANDED_HEIGHT%29%3B%0A%0Avar%20LEO_HIGHLIGHTS_DIV_HOVER_SIZE%20%3D%20new%20LeoHighlightsDimension%28LEO_HIGHLIGHTS_IFRAME_TOTAL_COLLAPSED_WIDTH%2CLEO_HIGHLIGHTS_IFRAME_TOTAL_COLLAPSED_HEIGHT%29%3B%0Avar%20LEO_HIGHLIGHTS_DIV_CLICK_SIZE%20%3D%20new%20LeoHighlightsDimension%28LEO_HIGHLIGHTS_IFRAME_TOTAL_EXPANDED_WIDTH%2CLEO_HIGHLIGHTS_IFRAME_TOTAL_EXPANDED_HEIGHT%29%3B%0A%0A%0A/**%0A%20*%20Sets%20the%20size%20of%20the%20passed%20in%20element%0A%20*%20%0A%20*%20@param%20elem%0A%20*%20@param%20dim%20%0A%20*%20@return%0A%20*/%0Afunction%20_leoHighlightsSetSize%28elem%2Cdim%29%0A%7B%0A%20%20%20try%0A%20%20%20%7B%0A%20%20%20%09//%20Set%20the%20popup%20location%0A%20%20%20%09elem.style.width%20%3D%20dim.width%20%2B%20%22px%22%3B%0A%20%20%20%09if%28elem.width%29%0A%20%20%20%09%09elem.width%3Ddim.width%3B%0A%20%20%20%09elem.style.height%20%20%3D%20dim.height%20%2B%20%22px%22%3B%0A%20%20%20%09if%28elem.height%29%0A%20%20%20%09%09elem.height%3Ddim.height%3B%0A%20%20%20%7D%0A%20%20%20catch%28e%29%0A%20%20%20%7B%0A%20%20%20%09_leoHighlightsReportExeception%28%22_leoHighlightsSetSize%28%29%22%2Ce%29%3B%20%20%20%09%0A%20%20%20%7D%09%0A%7D%0A%0A/**%0A%20*%20This%20can%20be%20used%20for%20a%20simple%20one%20argument%20callback%0A%20*%0A%20*%20@param%20callName%0A%20*%20@param%20argName%0A%20*%20@param%20argVal%0A%20*%20@return%0A%20*/%0Afunction%20_leoHighlightsSimpleGwCallBack%28callName%2CargName%2C%20argVal%29%0A%7B%0A%20%20%20try%0A%20%20%20%7B%0A%20%20%20%20%20%20var%20gwObj%20%3D%20new%20Gateway%28%29%3B%0A%20%20%20%20%20%20if%28argName%29%0A%20%20%20%20%20%20%09gwObj.addParam%28argName%2CargVal%29%3B%0A%20%20%20%20%20%20gwObj.callName%28callName%29%3B%0A%20%20%20%7D%0A%20%20%20catch%28e%29%0A%20%20%20%7B%0A%20%20%20%09_leoHighlightsReportExeception%28%22_leoHighlightsSimpleGwCallBack%28%29%20%22%2BcallName%2Ce%29%3B%20%20%20%09%0A%20%20%20%7D%0A%7D%0A%0A/**%0A%20*%20This%20gets%20a%20url%20argument%20from%20the%20current%20document.%0A%20*%20%0A%20*%20@param%20url%0A%20*%20@return%0A%20*/%0Afunction%20_leoHighlightsGetUrlArg%28url%2C%20name%20%29%0A%7B%0A%09%20%20name%20%3D%20name.replace%28/[%5C[]/%2C%22%5C%5C%5C[%22%29.replace%28/[%5C]]/%2C%22%5C%5C%5C]%22%29%3B%0A%09%20%20var%20regexS%20%3D%20%22[%5C%5C?%26]%22%2Bname%2B%22%3D%28[^%26%23]*%29%22%3B%0A%09%20%20var%20regex%20%3D%20new%20RegExp%28%20regexS%20%29%3B%0A%09%20%20var%20results%20%3D%20regex.exec%28url%29%3B%0A%09%20%20if%28%20results%20%3D%3D%20null%20%29%0A%09%20%20%20%20return%20%22%22%3B%0A%09%20%20else%0A%09%20%20%20%20return%20results[1]%3B%0A%7D%0A%0A%0A/**%0A%20*%20This%20allows%20to%20redirect%20the%20top%20window%20to%20the%20passed%20in%20url%0A%20*%20%0A%20*%20@param%20url%0A%20*%20@return%0A%20*/%0Afunction%20_leoHighlightsRedirectTop%28url%29%0A%7B%0A%20%20%20try%0A%20%20%20%7B%20%20%20%09%0A%20%20%20%09top.location%3Durl%3B%09%0A%20%20%20%7D%0A%20%20%20catch%28e%29%0A%20%20%20%7B%0A%20%20%20%09_leoHighlightsReportExeception%28%22_leoHighlightsRedirectTop%28%29%22%2Ce%29%3B%0A%20%20%20%7D%0A%7D%0A%0A%0A/**%0A%20*%20This%20will%20find%20an%20element%20by%20Id%0A%20*%20%0A%20*%20@param%20elemId%0A%20*%20@return%0A%20*/%0Afunction%20_leoHighlightsFindElementById%28elemId%2Cdoc%29%0A%7B%0A%09try%0A%09%7B%0A%09%20%20%20if%28doc%3D%3Dnull%29%0A%09%20%20%20%20%20%20doc%3Ddocument%3B%0A%09%20%20%20%0A%09%09var%20elem%3Ddoc.getElementById%28elemId%29%3B%0A%09%09if%28elem%29%0A%09%09%09return%20elem%3B%0A%09%09%0A%09%09/*%20This%20is%20the%20handling%20for%20IE%20*/%0A%09%09if%28doc.all%29%0A%09%09%7B%0A%09%09%09elem%3Ddoc.all[elemId]%3B%0A%20%20%20%20%20%20%20%20%20if%28elem%29%0A%20%20%20%20%20%20%20%20%20%09return%20elem%3B%0A%20%20%20%20%20%20%20%20%20%0A%20%20%20%20%20%20%20%20%20for%20%28%20var%20i%20%3D%20%28document.all.length-1%29%3B%20i%20%3E%3D%200%3B%20i %29%20%7B%0A%20%20%20%20%20%20%20%20%20%09elem%3Ddoc.all[i]%3B%0A%20%20%20%20%20%20%20%20%20%09if%28elem.id%3D%3DelemId%29%0A%20%20%20%20%20%20%20%20%20%20%20%20%20%20%20return%20elem%3B%0A%20%20%20%20%20%20%20%20%20%7D%0A%09%09%7D%0A%09%7D%0A%20%20%20catch%28e%29%0A%20%20%20%7B%0A%20%20%20%09_leoHighlightsReportExeception%28%22_leoHighlightsFindElementById%28%29%22%2Ce%29%3B%0A%20%20%20%7D%0A%09return%20null%3B%0A%7D%0A%0A/**%0A%20*%20Get%20the%20location%20of%20one%20element%20relative%20to%20a%20parent%20reference%0A%20*%0A%20*%20@param%20ref%0A%20*%20%20%20%20%20%20%20%20%20%20%20the%20reference%20element%2C%20this%20must%20be%20a%20parent%20of%20the%20passed%20in%0A%20*%20%20%20%20%20%20%20%20%20%20%20element%0A%20*%20@param%20elem%0A%20*%20@return%0A%20*/%0Afunction%20_leoHighlightsGetLocation%28ref%2C%20elem%29%20%7B%0A%20%20%20_leoHighlightsDebugLog%28%22_leoHighlightsGetLocation%20%22%2Belem.id%29%3B%0A%20%20%20%0A%20%20%20var%20count%20%3D%200%3B%0A%20%20%20var%20location%20%3D%20new%20LeoHighlightsPosition%280%2C0%29%3B%0A%20%20%20var%20walk%20%3D%20elem%3B%0A%20%20%20while%20%28walk%20%21%3D%20null%20%26%26%20walk%20%21%3D%20ref%20%26%26%20count%20%3C%20LEO_HIGHLIGHTS_INFINITE_LOOP_COUNT%29%20%7B%0A%20%20%20%20%20%20location.x%20%2B%3D%20walk.offsetLeft%3B%0A%20%20%20%20%20%20location.y%20%2B%3D%20walk.offsetTop%3B%0A%20%20%20%20%20%20walk%20%3D%20walk.offsetParent%3B%0A%20%20%20%20%20%20count%2B%2B%3B%0A%20%20%20%7D%0A%20%20%20%0A%20%20%20_leoHighlightsDebugLog%28%22Location%20is%3A%20%22%2Belem.id%2B%22%20-%20%22%2Blocation%29%3B%0A%0A%20%20%20return%20location%3B%0A%7D%0A%0A/**%0A%20*%20This%20is%20used%20to%20update%20the%20position%20of%20an%20element%20as%20a%20popup%0A%20*%20%0A%20*%20@param%20IFrame%0A%20*%20@param%20anchor%0A%20*%20@return%0A%20*/%0Afunction%20_leoHighlightsUpdatePopupPos%28iFrame%2Canchor%29%0A%7B%0A%20%20%20try%0A%20%20%20%7B%0A%20%20%20%20%20%20//%20Gets%20the%20scrolled%20location%20for%20x%20and%20y%0A%20%20%20%20%20%20var%20scrolledPos%3Dnew%20LeoHighlightsPosition%280%2C0%29%3B%0A%20%20%20%20%20%20if%28%20self.pageYOffset%20%29%20%7B%0A%20%20%20%20%20%20%20%20%20scrolledPos.x%20%3D%20self.pageXOffset%3B%0A%20%20%20%20%20%20%20%20%20scrolledPos.y%20%3D%20self.pageYOffset%3B%0A%20%20%20%20%20%20%7D%20else%20if%28%20document.documentElement%20%26%26%20document.documentElement.scrollTop%20%29%20%7B%0A%20%20%20%20%20%20%20%20%20scrolledPos.x%20%3D%20document.documentElement.scrollLeft%3B%0A%20%20%20%20%20%20%20%20%20scrolledPos.y%20%3D%20document.documentElement.scrollTop%3B%0A%20%20%20%20%20%20%7D%20else%20if%28%20document.body%20%29%20%7B%0A%20%20%20%20%20%20%20%20%20scrolledPos.x%20%3D%20document.body.scrollLeft%3B%0A%20%20%20%20%20%20%20%20%20scrolledPos.y%20%3D%20document.body.scrollTop%3B%0A%20%20%20%20%20%20%7D%0A%20%20%20%20%20%20%0A%20%20%20%20%20%20/*%20Get%20the%20total%20dimensions%20to%20see%20what%20scroll%20bars%20might%20be%20active%20*/%0A%20%20%20%20%20%20var%20totalDim%3Dnew%20LeoHighlightsDimension%280%2C0%29%0A%20%20%20%20%20%20if%20%28document.all%20%26%26%20document.documentElement%20%26%26%20%0A%20%20%20%20%20%20%09document.documentElement.clientHeight%26%26document.documentElement.clientWidth%29%0A%20%20%20%20%20%20%7B%0A%20%20%20%20%20%20%09totalDim.width%20%3D%20document.documentElement.scrollWidth%3B%0A%20%20%20%20%20%20%09totalDim.height%20%3D%20document.documentElement.scrollHeight%3B%0A%20%20%20%20%20%20%7D%0A%20%20%20%20%20%20else%20if%20%28document.all%29%0A%20%20%20%20%20%20%7B%20/*%20This%20is%20in%20IE%20*/%0A%20%20%20%20%20%09%20%09totalDim.width%20%3D%20document.body.scrollWidth%3B%0A%20%20%20%20%20%20%09totalDim.height%20%3D%20document.body.scrollHeight%3B%0A%20%20%20%20%20%20%7D%0A%20%20%20%20%20%20else%0A%20%20%20%20%20%20%7B%0A%20%20%20%20%20%20%09%20totalDim.width%20%3D%20document.width%3B%0A%20%20%20%20%20%20%09%20totalDim.height%20%3D%20document.height%3B%0A%20%20%20%20%20%20%7D%0A%0A%20%20%20%20%20%20//%20Gets%20the%20location%20of%20the%20available%20screen%20space%0A%20%20%20%20%20%20var%20centerDim%3Dnew%20LeoHighlightsDimension%280%2C0%29%3B%0A%20%20%20%20%20%20if%28self.innerWidth%20%26%26%20self.innerHeight%20%29%20%7B%0A%20%20%20%20%20%20%20%20%20centerDim.width%20%3D%20self.innerWidth-%28totalDim.height%3Eself.innerHeight?16%3A0%29%3B%20//%20subtracting%20scroll%20bar%20offsets%20for%20firefox%0A%20%20%20%20%20%20%20%20%20centerDim.height%20%3D%20self.innerHeight-%28totalDim.width%3Eself.innerWidth?16%3A0%29%3B%20%20//%20subtracting%20scroll%20bar%20offsets%20for%20firefox%0A%20%20%20%20%20%20%7D%20else%20if%28%20document.documentElement%20%26%26%20document.documentElement.clientHeight%20%29%20%7B%0A%20%20%20%20%20%20%20%20%20centerDim.width%20%3D%20document.documentElement.clientWidth%3B%0A%20%20%20%20%20%20%20%20%20centerDim.height%20%3D%20document.documentElement.clientHeight%3B%0A%20%20%20%20%20%20%7D%20else%20if%28%20document.body%20%29%20%7B%0A%20%20%20%20%20%20%20%20%20centerDim.width%20%3D%20document.body.clientWidth%3B%0A%20%20%20%20%20%20%20%20%20centerDim.height%20%3D%20document.body.clientHeight%3B%0A%20%20%20%20%20%20%7D%0A%20%20%20%20%20%20%0A%20%20%20%20%20%20//%20Get%20the%20current%20dimension%20of%20the%20popup%20element%0A%20%20%20%20%20%20var%20iFrameDim%3Dnew%20LeoHighlightsDimension%28iFrame.offsetWidth%2CiFrame.offsetHeight%29%0A%20%20%20%20%20%20if%20%28iFrameDim.width%20%3C%3D%200%29%0A%20%20%20%20%20%20%09iFrameDim.width%20%3D%20iFrame.style.width.substring%280%2C%20iFrame.style.width.indexOf%28%27px%27%29%29%3B%0A%20%20%20%20%20%20if%20%28iFrameDim.height%20%3C%3D%200%29%0A%20%20%20%20%20%20%09iFrameDim.height%20%3D%20iFrame.style.height.substring%280%2C%20iFrame.style.height.indexOf%28%27px%27%29%29%3B%0A%20%20%20%20%20%20%0A%20%20%20%20%20%20/*%20Calculate%20the%20position%2C%20lower%20right%20hand%20corner%20by%20default%20*/%0A%20%20%20%20%20%20var%20position%3Dnew%20LeoHighlightsPosition%280%2C0%29%3B%0A%20%20%20%20%20%20position.x%3DscrolledPos.x%2BcenterDim.width-iFrameDim.width-LEO_HIGHLIGHTS_ADJUSTMENT.x%3B%0A%20%20%20%20%20%20position.y%3DscrolledPos.y%2BcenterDim.height-iFrameDim.height-LEO_HIGHLIGHTS_ADJUSTMENT.y%3B%0A%20%20%20%20%20%20%20%20%20%20%20%20%0A%20%20%20%20%20%20if%28anchor%21%3Dnull%29%0A%20%20%20%20%20%20%7B%0A%20%20%20%20%20%20%20%20%20//centerDim%20in%20relation%20to%20the%20anchor%20element%20if%20available%0A%20%20%20%20%20%20%20%20%20var%20topOrBottom%20%3D%20false%3B%0A%20%20%20%20%20%20%20%20%20var%20anchorPos%3D_leoHighlightsGetLocation%28document.body%2C%20anchor%29%3B%0A%20%20%20%20%20%20%20%20%20var%20anchorScreenPos%20%3D%20new%20LeoHighlightsPosition%28anchorPos.x-scrolledPos.x%2CanchorPos.y-scrolledPos.y%29%3B%0A%20%20%20%20%20%20%20%20%20var%20anchorDim%3Dnew%20LeoHighlightsDimension%28anchor.offsetWidth%2Canchor.offsetHeight%29%0A%20%20%20%20%20%20%20%20%20if%20%28anchorDim.width%20%3C%3D%200%29%0A%20%20%20%20%20%20%20%20%20%09anchorDim.width%20%3D%20anchor.style.width.substring%280%2C%20anchor.style.width.indexOf%28%27px%27%29%29%3B%0A%20%20%20%20%20%20%20%20%20if%20%28anchorDim.height%20%3C%3D%200%29%0A%20%20%20%20%20%20%20%20%20%09anchorDim.height%20%3D%20anchor.style.height.substring%280%2C%20anchor.style.height.indexOf%28%27px%27%29%29%3B%0A%0A%20%20%20%20%20%20%20%20%20//%20Check%20if%20the%20popup%20can%20be%20shown%20above%20or%20below%20the%20element%0A%20%20%20%20%20%20%20%20%20if%20%28centerDim.height%20-%20anchorDim.height%20-%20iFrameDim.height%20-%20anchorScreenPos.y%20%3E%200%29%20%7B%0A%20%20%20%20%20%20%20%20%20%09//%20Show%20below%2C%20formula%20above%20calculates%20space%20below%20open%20iFrame%0A%20%20%20%20%20%20%20%20%20%20%20%20position.y%20%3D%20anchorPos.y%20%2B%20anchorDim.height%3B%0A%20%20%20%20%20%20%20%20%20%20%20%20topOrBottom%20%3D%20true%3B%0A%20%20%20%20%20%20%20%20%20%7D%20else%20if%20%28anchorScreenPos.y%20-%20anchorDim.height%20-%20iFrameDim.height%20%3E%200%29%20%7B%0A%20%20%20%20%20%20%20%20%20%09//%20Show%20above%2C%20formula%20above%20calculates%20space%20above%20open%20iFrame%0A%20%20%20%20%20%20%20%20%20%09position.y%20%3D%20anchorPos.y%20-%20iFrameDim.height%20-%20anchorDim.height%3B%0A%20%20%20%20%20%20%20%20%20%20%20%20topOrBottom%20%3D%20true%3B%0A%20%20%20%20%20%20%20%20%20%7D%0A%20%20%20%20%20%20%20%20%20%0A%20%20%20%20%20%20%20%20%20_leoHighlightsDebugLog%28%22_leoHighlightsUpdatePopupPos%28%29%20-%20topOrBottom%3A%20%22%2BtopOrBottom%29%3B%0A%20%20%20%20%20%20%20%20%20%0A%20%20%20%20%20%20%20%20%20if%20%28topOrBottom%29%20%7B%0A%20%20%20%20%20%20%20%20%20%20%20%20//%20We%20attempt%20top%20attach%20the%20window%20to%20the%20element%0A%20%20%20%20%20%20%20%20%20%09position.x%20%3D%20anchorPos.x%20-%20iFrameDim.width%20/%202%3B%0A%20%20%20%20%20%20%20%20%20%20%20%20if%20%28position.x%20%3C%200%29%0A%20%20%20%20%20%20%20%20%20%20%20%20%09position.x%20%3D%200%3B%0A%20%20%20%20%20%20%20%20%20%20%20%20else%20if%20%28position.x%20%2B%20iFrameDim.width%20%3E%20scrolledPos.x%20%2B%20centerDim.width%29%0A%20%20%20%20%20%20%20%20%20%20%20%20%09position.x%20%3D%20scrolledPos.x%20%2B%20centerDim.width%20-%20iFrameDim.width%3B%0A%20%20%20%20%20%20%20%20%20%20%20%20_leoHighlightsDebugLog%28%22_leoHighlightsUpdatePopupPos%28%29%20-%20topOrBottom%3A%20%22%2Bposition%29%3B%0A%20%20%20%20%20%20%20%20%20%7D%20else%20%7B%0A%20%20%20%20%20%20%20%20%20%20%20%20//%20Attempt%20to%20align%20on%20the%20right%20or%20left%20hand%20side%0A%20%20%20%20%20%20%20%20%20%20%20%20if%20%28centerDim.width%20-%20anchorDim.width%20-%20iFrameDim.width%20-%20anchorScreenPos.x%20%3E%200%29%0A%20%20%20%20%20%20%20%20%20%20%20%20%20%20%20position.x%20%3D%20anchorPos.x%20%2B%20anchorDim.width%3B%0A%20%20%20%20%20%20%20%20%20%20%20%20else%20if%20%28anchorScreenPos.x%20-%20anchorDim.width%20-%20iFrameDim.width%20%3E%200%29%0A%20%20%20%20%20%20%20%20%20%20%20%20%09position.x%20%3D%20anchorPos.x%20-%20anchorDim.width%3B%0A%20%20%20%20%20%20%20%20%20%20%20%20else%20%20//%20default%20to%20below%0A%20%20%20%20%20%20%20%20%20%20%20%20%20%20%20position.y%20%3D%20anchorPos.y%20%2B%20anchorDim.height%3B%0A%20%20%20%20%20%20%20%20%20%20%20%20_leoHighlightsDebugLog%28%22_leoHighlightsUpdatePopupPos%28%29%20-%20sideBottom%3A%20%22%2Bposition%29%3B%0A%20%20%20%20%20%20%20%20%20%7D%0A%20%20%20%20%20%20%7D%0A%20%20%20%20%20%20%0A%20%20%20%20%20%20%0A%20%20%20%20%20%20/*%20Make%20sure%20that%20we%20don%27t%20go%20passed%20the%20right%20hand%20border%20*/%0A%20%20%20%20%20%20if%28position.x%2BiFrameDim.width%3EcenterDim.width-20%29%0A%20%20%20%20%20%20%09position.x%3DcenterDim.width-%28iFrameDim.width%2B20%29%3B%0A%20%20%20%20%20%20%09%09%0A%20%20%20%20%20%20//%20Make%20sure%20that%20we%20didn%27t%20go%20passed%20the%20start%0A%20%20%20%20%20%20if%28position.x%3C0%29%0A%20%20%20%20%20%20%20%20%20position.x%3D0%3B%0A%20%20%20%20%20%20if%28position.y%3C0%29%0A%20%20%20%20%20%20%09position.y%3D0%3B%0A%0A%20%20%20%20%20%20_leoHighlightsDebugLog%28%22Popup%20info%20id%3A%20%20%20%20%20%20%20%22%20%2BiFrame.id%2B%22%20-%20%22%2Banchor.id%0A%20%20%20%20%20%20%20%20%20%20%20%20%20%20%20%20%20%20%20%20%20%20%20%20%20%20%20%20%20%2B%20%22%5Cnscrolled%20%20%20%20%20%20%20%20%20%20%22%20%2B%20scrolledPos%20%0A%20%20%20%20%20%20%20%20%20%20%20%20%20%20%20%20%20%20%20%20%20%20%20%20%20%20%20%20%20%2B%20%22%5Cncenter/visible%20%20%20%20%22%20%2B%20centerDim%0A%20%20%20%20%20%20%20%20%20%20%20%20%20%20%20%20%20%20%20%20%20%20%20%20%20%20%20%20%20%2B%20%22%5Cnanchor%20%28absolute%29%20%22%20%2B%20anchorPos%0A%20%20%20%20%20%20%20%20%20%20%20%20%20%20%20%20%20%20%20%20%20%20%20%20%20%20%20%20%20%2B%20%22%5Cnanchor%20%28screen%29%20%20%20%22%20%2B%20anchorScreenPos%0A%20%20%20%20%20%20%20%20%20%20%20%20%20%20%20%20%20%20%20%20%20%20%20%20%20%20%20%20%20%2B%20%22%5CnSize%20%28anchor%29%20%20%20%20%20%22%20%2B%20anchorDim%0A%20%20%20%20%20%20%20%20%20%20%20%20%20%20%20%20%20%20%20%20%20%20%20%20%20%20%20%20%20%2B%20%22%5CnSize%20%28popup%29%20%20%20%20%20%20%22%20%2B%20iFrameDim%0A%20%20%20%20%20%20%20%20%20%20%20%20%20%20%20%20%20%20%20%20%20%20%20%20%20%20%20%20%20%2B%20%22%5CnResult%20pos%20%20%20%20%20%20%20%20%22%20%2B%20position%29%3B%0A%0A%20%20%20%20%20%20//%20Set%20the%20popup%20location%0A%20%20%20%20%20%20iFrame.style.left%20%3D%20position.x%20%2B%20%22px%22%3B%0A%20%20%20%20%20%20iFrame.style.top%20%20%3D%20position.y%20%2B%20%22px%22%3B%0A%20%20%20%7D%0A%20%20%20catch%28e%29%0A%20%20%20%7B%0A%20%20%20%09_leoHighlightsReportExeception%28%22_leoHighlightsUpdatePopupPos%28%29%22%2Ce%29%3B%20%20%20%09%0A%20%20%20%7D%0A%7D%0A%0A%0A/**%0A%20*%20This%20will%20show%20the%20passed%20in%20element%20as%20a%20popup%0A%20*%20%0A%20*%20@param%20anchorId%0A%20*%20@param%20size%0A%20*%20%0A%20*%20@return%0A%20*/%0Afunction%20_leoHighlightsShowPopup%28anchorId%2Csize%29%0A%7B%0A%20%20%20try%0A%20%20%20%7B%0A%20%20%20%20%20%20if%28_leoHighlightsSnoozed%29%0A%20%20%20%20%20%20%20%20%20return%20false%3B%0A%20%20%20%20%20%20%0A%20%20%20%09var%20popup%3Dnew%20LeoHighlightsPopup%28anchorId%2Csize%29%3B%0A%20%20%20%09popup.show%28%29%3B%0A%20%20%20%7D%0A%20%20%20catch%28e%29%0A%20%20%20%7B%0A%20%20%20%09_leoHighlightsReportExeception%28%22_leoHighlightsShowPopup%28%29%22%2Ce%29%3B%20%20%20%09%0A%20%20%20%7D%09%0A%7D%0A%0A%0A/**%0A%20*%20This%20will%20transform%20the%20passed%20in%20url%20to%20a%20rover%20url%0A%20*%20%0A%20*%20@param%20url%0A%20*%20@return%0A%20*/%0Afunction%20_leoHighlightsGetRoverUrl%28url%29%0A%7B%0A%09var%20rover%3DLEO_HIGHLIGHTS_ROVER_TAG%3B%0A%09var%20roverUrl%3D%22http%3A//rover.ebay.com/rover/1/%22%2Brover%2B%22/4?%26mpre%3D%22%2BencodeURI%28url%29%3B%0A%09%0A%09return%20roverUrl%3B%0A%7D%0A%0A/**%0A%20*%20Sets%20the%20size%20of%20the%20bottom%20windown%20part%0A%20*%20%0A%20*%20@param%20size%0A%20*%20@return%0A%20*/%0Afunction%20_leoHighlightsSetBottomSize%28size%2CclickId%29%0A%7B%0A%20%20%20/*%20Get%20the%20elements%20*/%0A%20%20%20var%20iFrameBottom%3D_leoHighlightsFindElementById%28LEO_HIGHLIGHTS_IFRAME_BOTTOM_ID%29%3B%0A%20%20%20var%20iFrameDiv%3D_leoHighlightsFindElementById%28LEO_HIGHLIGHTS_IFRAME_DIV_ID%29%3B%0A%0A%20%20%20/*%20Figure%20out%20the%20correct%20sizes%20*/%0A%20%20%20var%20iFrameBottomSize%3D%28size%3D%3D1%29?LEO_HIGHLIGHTS_IFRAME_BOTTOM_CLICK_SIZE%3ALEO_HIGHLIGHTS_IFRAME_BOTTOM_HOVER_SIZE%3B%0A%20%20%20var%20divSize%3D%28size%3D%3D1%29?LEO_HIGHLIGHTS_DIV_CLICK_SIZE%3ALEO_HIGHLIGHTS_DIV_HOVER_SIZE%3B%0A%0A%20%20%20/*%20Refresh%20the%20iFrame%27s%20url%2C%20by%20removing%20the%20size%20arg%20and%20adding%20it%20again%20*/%0A%20%20%20leoHighlightsUpdateUrl%28iFrameBottom%2Csize%2CclickId%29%3B%0A%0A%20%20%20/*%20Clear%20the%20hover%20flag%2C%20if%20the%20user%20shows%20this%20at%20full%20size%20*/%0A%20%20%20_leoHighlightsPrevElem.hover%3Dsize%3D%3D1?false%3Atrue%3B%0A%0A%20%20%20_leoHighlightsSetSize%28iFrameBottom%2CiFrameBottomSize%29%3B%0A%20%20%20_leoHighlightsSetSize%28iFrameDiv%2CdivSize%29%3B%0A%7D%0A%0A/**%0A%20*%20Class%20for%20a%20Popup%20%0A%20*%20%0A%20*%20@param%20anchorId%0A%20*%20@param%20size%0A%20*%20%0A%20*%20@return%0A%20*/%0Afunction%20LeoHighlightsPopup%28anchorId%2Csize%29%0A%7B%0A%20%20%20try%0A%20%20%20%7B%0A%20%20%20%20%20%20_leoHighlightsDebugLog%28%22LeoHighlightsPopup%28%29%20%22%29%3B%0A%20%20%20%20%20%20%0A%20%20%20%09this.anchorId%3DanchorId%3B%0A%20%20%20%09this.anchor%3D_leoHighlightsFindElementById%28this.anchorId%29%3B%0A%20%20%20%09this.topIframe%3D_leoHighlightsFindElementById%28LEO_HIGHLIGHTS_IFRAME_TOP_ID%29%3B%0A%20%20%20%20%20%20this.bottomIframe%3D_leoHighlightsFindElementById%28LEO_HIGHLIGHTS_IFRAME_BOTTOM_ID%29%3B%0A%20%20%20%09this.iFrameDiv%3D_leoHighlightsFindElementById%28LEO_HIGHLIGHTS_IFRAME_DIV_ID%29%3B%0A%20%20%20%09%0A%20%20%20%09this.topIframe.src%3Dunescape%28this.anchor.getAttribute%28%27leoHighlights_url_top%27%29%29%3B%3B%0A%20%20%20%20%20%20this.bottomIframe.src%3Dunescape%28this.anchor.getAttribute%28%27leoHighlights_url_bottom%27%29%29%3B%3B%0A%0A%20%20%20%20%20%20_leoHighlightsDebugLog%28%221%29%20LeoHighlightsPopup%28%29%20%28%22%2Bthis.topIframe.style.top%2B%22%2C%20%22%2Bthis.topIframe.style.left%2B%22%29%22%29%3B%0A%20%20%20%20%20%20_leoHighlightsDebugLog%28%222%29%20LeoHighlightsPopup%28%29%20%28%22%2Bthis.bottomIframe.style.top%2B%22%2C%20%22%2Bthis.bottomIframe.style.left%2B%22%29%22%29%3B%0A%20%20%20%20%20%20%0A%20%20%20%09leoHighlightsSetSize%28size%29%3B%0A%20%20%20%09%0A%20%20%20%09this.updatePos%3Dfunction%28%29%20%7B%20_leoHighlightsUpdatePopupPos%28this.iFrameDiv%2Cthis.anchor%29%3B%7D%3B%0A%20%20%20%20%20%20this.show%3Dfunction%28%29%20%7B%0A%20%20%20%20%20%20%20%20%20%20%20%20this.updatePos%28%29%3B%20%0A%20%20%20%20%20%20%20%20%20%20%20%20this.iFrameDiv.style.visibility%20%3D%20%22visible%22%3B%20%0A%20%20%20%20%20%20%20%20%20%20%20%20this.iFrameDiv.style.display%20%3D%20%22block%22%3B%0A%20%20%20%20%20%20%20%20%20%20%20%20this.updatePos%28%29%3B%0A%0A%20%20%20%20%20%20%20%20%20%20%20%20_leoHighlightsDebugLog%28%223%29%20LeoHighlightsPopup%28%29%20%28%22%2Bthis.topIframe.style.top%2B%22%2C%20%22%2Bthis.topIframe.style.left%2B%22%29%22%29%3B%0A%20%20%20%20%20%20%20%20%20%20%20%20_leoHighlightsDebugLog%28%224%29%20LeoHighlightsPopup%28%29%20%28%22%2Bthis.bottomIframe.style.top%2B%22%2C%20%22%2Bthis.bottomIframe.style.left%2B%22%29%22%29%3B%0A%20%20%20%20%20%20%7D%3B%20%20%20%20%20%20%20%0A%20%20%20%09this.scroll%3Dfunction%28%29%20%7B%20this.updatePos%28%29%3B%7D%3B%0A%20%20%20%7D%0A%20%20%20catch%28e%29%0A%20%20%20%7B%0A%20%20%20%09_leoHighlightsReportExeception%28%22new%20LeoHighlightsPopup%28%29%22%2Ce%29%3B%20%20%20%09%0A%20%20%20%7D%0A%7D%0A%0A/**%0A%20*%20updates%20the%20url%20for%20the%20iFrame%0A%20*%20%0A%20*%20@param%20iFrame%0A%20*%20@param%20size%0A%20*%20@param%20clickId%0A%20*%20@return%0A%20*/%0Afunction%20leoHighlightsUpdateUrl%28iFrame%2Csize%2CclickId%2CdestUrl%29%0A%7B%0A%20%20%20try%0A%20%20%20%7B%0A%20%20%20%20%20%20_leoHighlightsDebugLog%28%22leoHighlightsUpdateUrl%28%29%20%22%2BdestUrl%29%3B%0A%20%20%20%20%20%20var%20url%3DiFrame.src%3B%0A%20%20%20%20%20%20var%20idx%3Durl.indexOf%28%22%26size%3D%22%29%3B%0A%20%20%20%20%20%20if%28idx%3E%3D0%29%0A%20%20%20%20%20%20%20%20%20url%3Durl.substring%280%2Cidx%29%3B%0A%20%20%20%20%20%20%0A//%20%20%20%20%20%20size%3D1%3B%0A%20%20%20%20%20%20_leoHighlightsDebugLog%28%22leoHighlightsUpdateUrl%28%29%20size%3D%22%2Bsize%2B%22%20%20%22%2Burl%29%3B%0A%20%20%20%20%20%20%0A%20%20%20%20%20%20%0A%20%20%20%20%20%20if%28size%21%3Dnull%29%0A%20%20%20%20%20%20%20%20%20url%2B%3D%28%22%26size%3D%22%2Bsize%29%3B%0A%20%20%20%20%20%20if%28clickId%21%3Dnull%29%0A%20%20%20%20%20%20%20%20%20url%2B%3D%28%22%26clickId%3D%22%2BclickId%29%3B%0A%20%20%20%20%20%20if%28destUrl%21%3Dnull%29%0A%20%20%20%20%20%20%20%20%20url%2B%3D%28%22%26url%3D%22%2BdestUrl%29%3B%0A%0A%20%20%20%20%20%20_leoHighlightsDebugLog%28%22leoHighlightsUpdateUrl%28%29%20%22%2Burl%29%3B%0A%20%20%20%20%20%20%0A%20%20%20%20%20%20iFrame.src%3Durl%3B%0A%20%20%20%7D%0A%20%20%20catch%28e%29%0A%20%20%20%7B%0A%20%20%20%20%20%20_leoHighlightsReportExeception%28%22leoHighlightsUpdateUrl%28%29%22%2Ce%29%3B%20%20%20%20%0A%20%20%20%7D%0A%7D%0A%0A%0A%0A/**%0A*%0A*%20This%20can%20be%20used%20to%20close%20an%20iframe%0A*%0A*%20@param%20id%0A*%20@return%0A*/%0Afunction%20leoHighlightsSetSize%28size%2CclickId%29%0A%7B%0A%09try%0A%09%7B%0A%09%09/*%20Get%20the%20element%20*/%0A%20%20%09%09var%20iFrameTop%3D_leoHighlightsFindElementById%28LEO_HIGHLIGHTS_IFRAME_TOP_ID%29%3B%0A%0A%20%20%09%09/*%20Figure%20out%20the%20correct%20sizes%20*/%0A%20%20%09%09var%20iFrameTopSize%3DLEO_HIGHLIGHTS_IFRAME_TOP_SIZE%3B%0A%20%20%09%09%0A%20%20%09%09/*%20Refresh%20the%20iFrame%27s%20url%2C%20by%20removing%20the%20size%20arg%20and%20adding%20it%20again%20*/%0A%20%20%09%09leoHighlightsUpdateUrl%28iFrameTop%2Csize%2CclickId%29%3B%0A%20%20%09%09%0A%20%20%09%09_leoHighlightsSetSize%28iFrameTop%2CiFrameTopSize%29%3B%0A%20%20%20%20%20%20_leoHighlightsSetBottomSize%28size%2CclickId%29%3B%0A%20%20%20%20%20%20%0A%20%20%20%20%20%20/*%20Clear%20the%20hover%20flag%2C%20if%20the%20user%20shows%20this%20at%20full%20size%20*/%0A%20%20%20%20%20%20if%28size%3D%3D1%26%26_leoHighlightsPrevElem%29%0A%20%20%20%20%20%20%20%20%20_leoHighlightsPrevElem.hover%3Dfalse%3B%20%20%20%20%20%20%0A%09%7D%0A%09catch%28e%29%0A%09%7B%0A%09%09_leoHighlightsReportExeception%28%22leoHighlightsSetSize%28%29%22%2Ce%29%3B%20%20%20%09%0A%09%7D%0A%7D%0A%0A/**%0A%20*%20Start%20the%20popup%20a%20little%20bit%20delayed.%0A%20*%20Somehow%20IE%20needs%20some%20time%20to%20find%20the%20element%20by%20id.%0A%20*%20%0A%20*%20@param%20anchorId%0A%20*%20@param%20size%0A%20*%20%0A%20*%20@return%0A%20*/%0Afunction%20leoHighlightsShowPopup%28anchorId%2Csize%29%0A%7B%0A%20%20%20try%0A%20%20%20%7B%0A%20%20%20%20%20%20if%28_leoHighlightsSnoozed%29%0A%20%20%20%20%20%20%20%20%20return%20false%3B%0A%20%20%20%20%20%20%0A%20%20%09%09var%20elem%3D_leoHighlightsFindElementById%28anchorId%29%3B%0A%20%20%09%09if%28_leoHighlightsPrevElem%26%26%28_leoHighlightsPrevElem%21%3Delem%29%29%0A%20%20%09%09%09_leoHighlightsPrevElem.shown%3Dfalse%3B%0A%20%20%09%09elem.shown%3Dtrue%3B%0A%09%09_leoHighlightsPrevElem%3Delem%3B%0A%09%09%0A%09%09_leoHighlightsDebugLog%28%22leoHighlightsShowPopup%28%29%20%22%2B_leoHighlightsPrevElem%29%3B%09%09%0A%20%20%20%09%0A%20%20%20%09/*%20FF%20needs%20to%20find%20the%20element%20first%20*/%0A%20%20%20%09_leoHighlightsFindElementById%28anchorId%29%3B%0A%20%20%20%09%0A%20%20%20%09setTimeout%28%22_leoHighlightsShowPopup%28%5C%27%22%2BanchorId%2B%22%5C%27%2C%5C%27%22%2Bsize%2B%22%5C%27%29%3B%22%2C10%29%3B%0A%20%20%20%7D%0A%20%20%20catch%28e%29%0A%20%20%20%7B%0A%20%20%20%09_leoHighlightsReportExeception%28%22leoHighlightsShowPopup%28%29%22%2Ce%29%3B%20%20%20%09%0A%20%20%20%7D%09%0A%7D%0A%0A/**%0A*%0A*%20This%20can%20be%20used%20to%20close%20an%20iframe%0A*%0A*%20@param%20id%0A*%20@return%0A*/%0Afunction%20leoHighlightsHideElem%28id%29%0A%7B%0A%09try%0A%09%7B%0A%09%09/*%20Get%20the%20appropriate%20sizes%20*/%0A%20%20%09%09var%20elem%3D_leoHighlightsFindElementById%28id%29%3B%0A%20%20%09%09if%28elem%29%0A%20%20%09%09%09elem.style.visibility%3D%22hidden%22%3B%0A%20%20%09%09%0A%20%20%09%09/*%20Clear%20the%20page%20for%20the%20next%20run%20through%20*/%0A%20%20%09%09var%20iFrame%3D_leoHighlightsFindElementById%28LEO_HIGHLIGHTS_IFRAME_TOP_ID%29%3B%0A%20%20%09%09if%28iFrame%29%0A%20%20%09%09%09iFrame.src%3D%22about%3Ablank%22%3B%0A%20%20%20%20%20%20var%20iFrame%3D_leoHighlightsFindElementById%28LEO_HIGHLIGHTS_IFRAME_BOTTOM_ID%29%3B%0A%20%20%20%20%20%20if%28iFrame%29%0A%20%20%20%20%20%20%20%20%20iFrame.src%3D%22about%3Ablank%22%3B%0A%20%20%09%09%0A%20%20%09%09%0A%20%20%09%09if%28_leoHighlightsPrevElem%29%0A%20%20%09%09%7B%0A%20%20%09%09%09_leoHighlightsPrevElem.shown%3Dfalse%3B%0A%20%20%09%09%09_leoHighlightsPrevElem%3Dnull%3B%0A%20%20%09%09%7D%0A%09%7D%0A%09catch%28e%29%0A%09%7B%0A%09%09_leoHighlightsReportExeception%28%22leoHighlightsHideElem%28%29%22%2Ce%29%3B%20%20%20%09%0A%09%7D%0A%7D%0A%0A/**%0A*%0A*%20This%20can%20be%20used%20to%20close%20an%20iframe.%0A*%20Since%20the%20iFrame%20is%20reused%20the%20frame%20only%20gets%20hidden%0A*%0A*%20@return%0A*/%0Afunction%20leoHighlightsIFrameClose%28%29%0A%7B%0A%20%20try%0A%20%20%7B%0A%09%20%20_leoHighlightsSimpleGwCallBack%28%22LeoHighlightsHideIFrame%22%29%3B%0A%20%20%7D%0A%20%20catch%28e%29%0A%20%20%7B%0A%09%20%20_leoHighlightsReportExeception%28%22leoHighlightsIFrameClose%28%29%22%2Ce%29%3B%20%20%20%09%0A%20%20%7D%0A%7D%0A%0A/**%0A*%0A*%20This%20is%20used%20to%20snooze%20the%20highlights.%0A*%0A*%20@return%0A*/%0Afunction%20leoHighlightsSnooze%28%29%0A%7B%0A%20%20try%0A%20%20%7B%0A%20%20%20%20%20_leoHighlightsSnoozed%3Dtrue%3B%0A%20%20%20%20%20_leoHighlightsSimpleGwCallBack%28%22LeoHighlightsSnooze%22%29%3B%0A%20%20%7D%0A%20%20catch%28e%29%0A%20%20%7B%0A%20%20%20%20%20_leoHighlightsReportExeception%28%22leoHighlightsSnooze%28%29%22%2Ce%29%3B%20%20%20%20%0A%20%20%7D%0A%7D%0A%0A/**%0A*%0A*%20This%20is%20used%20to%20snooze%20the%20highlights.%0A*%20This%20gets%20fired%20into%20the%20top%20frame.%0A*%0A*%20@return%0A*/%0Afunction%20leoHighlightsSnoozeTop%28id%29%0A%7B%0A%20%20try%0A%20%20%7B%0A%20%20%20%20%20_leoHighlightsSnoozed%3Dtrue%3B%0A%20%20%20%20%20leoHighlightsHideElem%28id%29%3B%0A%20%20%7D%0A%20%20catch%28e%29%0A%20%20%7B%0A%20%20%20%20%20_leoHighlightsReportExeception%28%22leoHighlightsSnoozeTop%28%29%22%2Ce%29%3B%20%20%20%20%0A%20%20%7D%0A%7D%0A%0A%0A/**%0A%20*%20This%20should%20handle%20the%20click%20events%0A%20*%20%0A%20*%20@param%20anchorId%0A%20*%20@return%0A%20*/%0Afunction%20leoHighlightsHandleClick%28anchorId%29%0A%7B%0A%20%20%20try%0A%20%20%20%7B%0A%20%20%20%20%20%20if%28_leoHighlightsSnoozed%29%0A%20%20%20%20%20%20%20%20%20return%20false%3B%0A%20%20%20%20%20%20%0A%20%20%20%20%20%20if%28_leoHighlightsIsFrame%28%29%29%0A%20%20%20%20%20%20%20%20%20return%20false%3B%0A%20%20%20%20%20%20%0A%20%20%09%09var%20anchor%3D_leoHighlightsFindElementById%28anchorId%29%3B%0A%20%20%09%09anchor.hover%3Dfalse%3B%0A%20%20%09%09if%28anchor.startTimer%29%0A%20%20%09%09%09clearTimeout%28anchor.startTimer%29%3B%0A%20%20%20%09%0A%20%20%20%20%20%20/*%20Report%20the%20click%20event%20*/%0A%20%20%20%20%20%20leoHighlightsReportEvent%28%22clicked%22%2C%20window.document.domain%2C%0A%20%20%20%20%20%20%20%20%20%20%20%20_leoHighlightsGetAttrib%28anchor%2C%27leohighlights_keywords%27%29%2Cnull%2C%0A%20%20%20%20%20%20%20%20%20%20%20%20_leoHighlightsGetAttrib%28anchor%2C%27leohighlights_accept%27%29%2C%0A%20%20%20%20%20%20%20%20%20%20%20%20_leoHighlightsGetAttrib%28anchor%2C%27leohighlights_reject%27%29%29%3B%0A%20%20%20%20%20%20%0A%20%20%20%09leoHighlightsShowPopup%28anchorId%2C1%29%3B%0A%20%20%20%09return%20false%3B%0A%20%20%20%7D%0A%20%20%20catch%28e%29%0A%20%20%20%7B%0A%20%20%20%09_leoHighlightsReportExeception%28%22leoHighlightsHandleClick%28%29%22%2Ce%29%3B%20%20%20%09%0A%20%20%20%7D%09%0A%7D%0A%0A/**%0A%20*%20This%20should%20handle%20the%20hover%20events%0A%20*%20%0A%20*%20@param%20anchorId%0A%20*%20@return%0A%20*/%0Afunction%20leoHighlightsHandleHover%28anchorId%29%0A%7B%0A%20%20%20try%0A%20%20%20%7B%0A%20%20%20%20%20%20if%28_leoHighlightsSnoozed%29%0A%20%20%20%20%20%20%20%20%20return%20false%3B%0A%20%20%20%20%20%20%0A%20%20%20%20%20%20if%28_leoHighlightsIsFrame%28%29%29%0A%20%20%20%20%20%20%20%20%20return%20false%3B%0A%20%20%20%20%20%20%0A%20%20%09%09var%20anchor%3D_leoHighlightsFindElementById%28anchorId%29%3B%0A%20%20%09%09anchor.hover%3Dtrue%3B%0A%20%20%09%09%0A%20%20%20%20%20%20/*%20Report%20the%20hover%20event%20*/%0A%20%20%20%20%20%20leoHighlightsReportEvent%28%22hovered%22%2C%20window.document.domain%2C%0A%20%20%20%20%20%20%20%20%20%20%20%20_leoHighlightsGetAttrib%28anchor%2C%27leohighlights_keywords%27%29%2Cnull%2C%0A%20%20%20%20%20%20%20%20%20%20%20%20_leoHighlightsGetAttrib%28anchor%2C%27leohighlights_accept%27%29%2C%0A%20%20%20%20%20%20%20%20%20%20%20%20_leoHighlightsGetAttrib%28anchor%2C%27leohighlights_reject%27%29%29%3B%0A%20%20%20%20%20%20%0A%20%20%20%09leoHighlightsShowPopup%28anchorId%2C0%29%3B%0A%20%20%20%09return%20false%3B%0A%20%20%20%7D%0A%20%20%20catch%28e%29%0A%20%20%20%7B%0A%20%20%20%09_leoHighlightsReportExeception%28%22leoHighlightsHandleHover%28%29%22%2Ce%29%3B%20%20%20%09%0A%20%20%20%7D%09%0A%7D%0A%0A/**%0A%20*%20This%20will%20handle%20the%20mouse%20over%20setup%20timers%20for%20the%20appropriate%20timers%0A%20*%20%0A%20*%20@param%20id%0A%20*%20@return%0A%20*/%0Afunction%20leoHighlightsHandleMouseOver%28id%29%0A%7B%0A%09try%0A%09%7B%0A%20%20%20%20%20%20if%28_leoHighlightsSnoozed%29%0A%20%20%20%20%20%20%20%20%20return%3B%0A%09%20%20%20%0A%09%20%20%20if%28_leoHighlightsIsFrame%28%29%29%0A%09%20%20%20%20%20%20return%3B%0A%09%20%20%20%0A%09%09var%20anchor%3D_leoHighlightsFindElementById%28id%29%3B%09%09%0A%0A%09%09/*%20Clear%20the%20end%20timer%20if%20required%20*/%0A%09%09if%28anchor.endTimer%29%0A%09%09%09clearTimeout%28anchor.endTimer%29%3B%0A%09%09anchor.endTimer%3Dnull%3B%0A%09%09%0A%09%09anchor.style.background%3DLEO_HIGHLIGHTS_BACKGROUND_STYLE_HOVER%3B%0A%09%09%0A%09%09var%20underline%3D_leoHighlightsGetAttrib%28anchor%2C%22leohighlights_underline%22%29%3D%3D%27true%27%3B%0A%09%09%0A%09%09/*%20The%20element%20is%20already%20showing%20we%20are%20done%20*/%0A%09%09if%28anchor.shown%29%0A%09%09%09return%3B%0A%09%09%0A%09%09/*%20Setup%20the%20start%20timer%20if%20required%20*/%0A%09%09anchor.startTimer%3DsetTimeout%28function%28%29%7B%0A%09%09%09leoHighlightsHandleHover%28anchor.id%29%3B%0A%09%09%09anchor.hover%3Dtrue%3B%0A%09%09%09%7D%2Cunderline?LEO_HIGHLIGHTS_SHOW_DELAY_MS%3ALEO_HIGHLIGHTS_SHOW_DELAY_NO_UNDER_MS%29%3B%0A%09%7D%0A%09catch%28e%29%0A%09%7B%0A%09%09_leoHighlightsReportExeception%28%22leoHighlightsHandleMouseOver%28%29%22%2Ce%29%3B%20%20%20%09%0A%09%7D%0A%7D%0A%0A/**%0A%20*%20This%20will%20handle%20the%20mouse%20over%20setup%20timers%20for%20the%20appropriate%20timers%0A%20*%20%0A%20*%20@param%20id%0A%20*%20@return%0A%20*/%0Afunction%20leoHighlightsHandleMouseOut%28id%29%0A%7B%0A%09try%0A%09%7B%09%0A%09%09var%20anchor%3D_leoHighlightsFindElementById%28id%29%3B%0A%09%09%0A%09%09/*%20Clear%20the%20start%20timer%20if%20required%20*/%0A%09%09if%28anchor.startTimer%29%0A%09%09%09clearTimeout%28anchor.startTimer%29%3B%0A%09%09anchor.startTimer%3Dnull%3B%0A%09%09%0A%09%09anchor.style.background%3DLEO_HIGHLIGHTS_BACKGROUND_STYLE_DEFAULT%3B%0A%09%09if%28%21anchor.shown||%21anchor.hover%29%0A%09%09%09return%3B%0A%09%09%0A%09%09/*%20Setup%20the%20start%20timer%20if%20required%20*/%0A%09%09anchor.endTimer%3DsetTimeout%28function%28%29%7B%0A%09%09%09leoHighlightsHideElem%28LEO_HIGHLIGHTS_IFRAME_DIV_ID%29%3B%0A%09%09%09anchor.shown%3Dfalse%3B%0A%09%09%09_leoHighlightsPrevElem%3Dnull%3B%0A%09%09%09%7D%2CLEO_HIGHLIGHTS_HIDE_DELAY_MS%29%3B%0A%09%7D%0A%09catch%28e%29%0A%09%7B%0A%09%09_leoHighlightsReportExeception%28%22leoHighlightsHandleMouseOut%28%29%22%2Ce%29%3B%20%20%20%09%0A%09%7D%0A%7D%0A%0A/**%0A%20*%20This%20handles%20the%20mouse%20movement%20into%20the%20currently%20opened%20window.%0A%20*%20Just%20clear%20the%20close%20timer%0A%20*%20%0A%20*%20@return%0A%20*/%0Afunction%20leoHighlightsHandleIFrameMouseOver%28%29%0A%7B%0A%09try%0A%09%7B%0A%09%09if%28_leoHighlightsPrevElem%26%26_leoHighlightsPrevElem.endTimer%29%0A%09%09%09clearTimeout%28_leoHighlightsPrevElem.endTimer%29%3B%0A%09%7D%0A%09catch%28e%29%0A%09%7B%0A%09%09_leoHighlightsReportExeception%28%22leoHighlightsHandleIFrameMouseOver%28%29%22%2Ce%29%3B%20%20%20%09%0A%09%7D%0A%7D%0A%0A/**%0A%20*%20This%20handles%20the%20mouse%20movement%20into%20the%20currently%20opened%20window.%0A%20*%20Just%20clear%20the%20close%20timer%0A%20*%20%0A%20*%20@param%20id%0A%20*%20@return%0A%20*/%0Afunction%20leoHighlightsHandleIFrameMouseOut%28%29%0A%7B%0A%09try%0A%09%7B%0A%09%09if%28_leoHighlightsPrevElem%29%0A%09%09%09leoHighlightsHandleMouseOut%28_leoHighlightsPrevElem.id%29%3B%0A%09%7D%0A%09catch%28e%29%0A%09%7B%0A%09%09_leoHighlightsReportExeception%28%22leoHighlightsHandleIFrameMouseOut%28%29%22%2Ce%29%3B%20%20%20%09%0A%09%7D%0A%7D%0A/**%0A%20*%20This%20is%20a%20method%20is%20used%20to%20make%20the%20javascript%20within%20IE%20runnable%0A%20*/%0Avar%20leoHighlightsRanUpdateDivs%3Dfalse%3B%0Afunction%20leoHighlightsUpdateDivs%28%29%0A%7B%0A%09try%0A%09%7B%0A%09%09/*%20Check%20if%20this%20is%20an%20IE%20browser%20and%20if%20divs%20have%20been%20updated%20already%20*/%0A%09%09if%28document.all%26%26%21leoHighlightsRanUpdateDivs%26%26%21_leoHighlightsIsFrame%28%29%29%0A%09%09%7B%0A%09%09%09leoHighlightsRanUpdateDivs%3Dtrue%3B%20//%20Set%20early%20to%20prevent%20running%20twice%0A%09%09%09for%28var%20i%3D0%3Bi%3CLEO_HIGHLIGHTS_MAX_HIGHLIGHTS%3Bi%2B%2B%29%0A%09%09%09%7B%0A%09%09%09%09var%20id%3D%22leoHighlights_Underline_%22%2Bi%3B%0A%09%09%09%09var%20elem%3D_leoHighlightsFindElementById%28id%29%3B%0A%09%09%09%09if%28elem%3D%3Dnull%29%0A%09%09%09%09%09break%3B%0A%09%09%09%09%0A%09%09%09%09if%28%21elem.leoChanged%29%0A%09%09%09%09%7B%0A%09%09%09%09%09elem.leoChanged%3Dtrue%3B%0A%09%09%09%09%0A%09%09%09%09%09/*%20This%20will%20make%20javaScript%20runnable%20*/%09%09%09%09%0A%09%09%09%09%09elem.outerHTML%3Delem.outerHTML%3B%0A%09%09%09%09%7D%0A%09%09%09%7D%0A%09%09%7D%0A%09%7D%0A%09catch%28e%29%0A%09%7B%0A%09%09_leoHighlightsReportExeception%28%22leoHighlightsUpdateDivs%28%29%22%2Ce%29%3B%20%20%20%09%0A%09%7D%0A%7D%0A%0Aif%28document.all%29%0A%09setTimeout%28leoHighlightsUpdateDivs%2C200%29%3B%0A%0A%0A/**%0A%20*%20This%20is%20used%20to%20report%20events%20to%20the%20plugin%0A%20*%20@param%20key%0A%20*%20@param%20domain%0A%20*%20@param%20keywords%0A%20*%20@param%20vendorId%0A%20*%20@param%20accept%0A%20*%20@param%20reject%0A%20*%20@return%0A%20*/%0Afunction%20leoHighlightsReportEvent%28key%2C%20domain%2Ckeywords%2CvendorId%2Caccept%2Creject%29%0A%7B%0A%20%20%20try%0A%20%20%20%7B%0A%20%20%20%20%20%20var%20gwObj%20%3D%20new%20Gateway%28%29%3B%0A%20%20%20%20%20%20gwObj.addParam%28%22key%22%2Ckey%29%3B%0A%20%20%20%20%20%20if%28domain%21%3Dnull%29%0A%20%20%20%20%20%20%20%20%20gwObj.addParam%28%22domain%22%2Cdomain%29%3B%0A%20%20%20%20%20%20if%28keywords%21%3Dnull%29%0A%20%20%20%20%20%20%20%20%20gwObj.addParam%28%22keywords%22%2Ckeywords%29%3B%0A%20%20%20%20%20%20if%28vendorId%21%3Dnull%29%0A%20%20%20%20%20%20%20%20%20gwObj.addParam%28%22vendorId%22%2CvendorId%29%3B%0A%20%20%20%20%20%20if%28accept%21%3Dnull%29%0A%20%20%20%20%20%20%20%20%20gwObj.addParam%28%22accept%22%2Caccept%29%3B%0A%20%20%20%20%20%20if%28reject%21%3Dnull%29%0A%20%20%20%20%20%20%20%20%20gwObj.addParam%28%22reject%22%2Creject%29%3B%0A%20%20%20%20%20%20%0A%20%20%20%20%20%20gwObj.callName%28%22LeoHighlightsEvent%22%29%3B%0A%20%20%20%7D%0A%20%20%20catch%28e%29%0A%20%20%20%7B%0A%20%20%20%20%20%20_leoHighlightsReportExeception%28%22leoHighlights%28%29%22%2Ce%29%3B%20%20%20%20%20%0A%20%20%20%7D%0A%7D%0A%0A/**%0A%20*%20This%20will%20expand%20or%20collapse%20the%20window%20base%20on%20it%20prior%20state%0A%20*%20%0A%20*%20@return%0A%20*/%0Afunction%20leoHighlightsToggleSize%28clickId%29%0A%7B%0A%20%20%20try%0A%20%20%20%7B%20%20%0A%20%20%20%20%20%20_leoHighlightsDebugLog%28%22leoHighlightsToggleSize%28%29%20%22%2B_leoHighlightsPrevElem%29%3B%20%20%20%20%20%20%20%20%20%20%20%20%0A%20%20%20%20%20%20/*%20Get%20the%20hover%20flag%20and%20change%20the%20status%20*/%0A%20%20%20%20%20%20var%20size%3D_leoHighlightsPrevElem.hover?1%3A0%3B%0A%20%20%20%20%20%20_leoHighlightsSetBottomSize%28size%2CclickId%29%3B%0A%20%20%20%7D%0A%20%20%20catch%28e%29%0A%20%20%20%7B%0A%20%20%20%20%20%20_leoHighlightsReportExeception%28%22leoHighlightsToggleSize%28%29%22%2Ce%29%3B%20%20%20%20%20%0A%20%20%20%7D%0A%7D%0A%0A/**%0A%20*%20Call%20into%20the%20kvm%20that%20will%20then%20do%20a%20callback%20into%20the%20top%20window%0A%20*%20The%20top%20window%20will%20then%20call%20leoH%0A%20*%20%0A%20*%20@return%0A%20*/%0Afunction%20leoHighlightsSetSecondaryWindowUrl%28url%2C%20customerId%2C%20phraseId%29%0A%7B%0A%20%20%20try%0A%20%20%20%7B%20%0A%20%20%20%20%20%20_leoHighlightsDebugLog%28%22leoHighlightsSetSecondaryWindowUrl%28%29%20%22%2Burl%29%3B%20%20%20%20%20%20%20%20%20%20%20%20%0A%20%20%20%20%20%20var%20gwObj%20%3D%20new%20Gateway%28%29%3B%0A%20%20%20%20%20%20gwObj.addParam%28%22url%22%2C%20url%29%3B%0A%20%20%20%20%20%20gwObj.addParam%28%22phraseId%22%2C%20phraseId%29%3B%0A%20%20%20%20%20%20gwObj.addParam%28%22customerId%22%2C%20customerId%29%3B%0A%20%20%20%20%20%20gwObj.callName%28%22LeoHighlightsSetSecondaryWindowUrl%22%29%3B%20%20%20%20%20%20%20%20%20%20%20%20%20%20%20%20%20%20%20%20%20%20%0A%20%20%20%7D%0A%20%20%20catch%28e%29%0A%20%20%20%7B%0A%20%20%20%20%20%20_leoHighlightsReportExeception%28%22leoHighlightsSetSecondaryWindowUrl%28%29%22%2Ce%29%3B%20%20%20%20%20%0A%20%20%20%7D%0A%7D%0A%0A/**%0A%20*%20Call%20into%20the%20kvm%20that%20will%20then%20do%20a%20callback%20into%20the%20top%20window%0A%20*%20The%20top%20window%20will%20then%20call%20leoH%0A%20*%20%0A%20*%20@return%0A%20*/%0Afunction%20leoHighlightsSetSecondaryWindowUrlCallback%28url%2C%20customerId%2C%20phraseId%29%0A%7B%0A%20%20%20try%0A%20%20%20%7B%20%0A%20%20%20%20%20%20_leoHighlightsDebugLog%28%22leoHighlightsSetSecondaryWindowUrlCallback%28%29%20%22%2Burl%29%3B%0A%20%20%20%20%20%20%0A%20%20%20%20%20%20/*%20Clear%20the%20hover%20flag%2C%20if%20the%20user%20shows%20this%20at%20full%20size%20*/%0A%20%20%20%20%20%20var%20size%3D_leoHighlightsPrevElem.hover?0%3A1%3B%20%20%20%20%20%20%0A%20%20%20%20%20%20_leoHighlightsDebugLog%28%22leoHighlightsSetSecondaryWindowUrlCallback%28%29%20%22%2B_leoHighlightsPrevElem%2B%22%20 %20%22%2B_leoHighlightsPrevElem.hover%29%3B%0A%20%20%20%20%20%20%0A%20%20%20%20%20%20/*%20Get%20the%20elements%20*/%0A%20%20%20%20%20%20var%20iFrameBottom%3D_leoHighlightsFindElementById%28LEO_HIGHLIGHTS_IFRAME_BOTTOM_ID%29%3B%0A%20%20%20%20%20%20leoHighlightsUpdateUrl%28iFrameBottom%2Csize%2Cnull%2Curl%29%3B%0A%20%20%20%20%20%20%0A%20%20%20%20%20%20_leoHighlightsDebugLog%28%22leoHighlightsSetSecondaryWindowUrlCallback%28%29%20%22%2Burl%29%3B%20%20%20%20%20%20%20%20%20%20%20%20%0A%20%20%20%7D%0A%20%20%20catch%28e%29%0A%20%20%20%7B%0A%20%20%20%20%20%20_leoHighlightsReportExeception%28%22leoHighlightsSetSecondaryWindowUrlCallback%28%29%22%2Ce%29%3B%20%20%20%20%20%0A%20%20%20%7D%0A%7D%0A%0A/**%0A%20*%20This%20will%20set%20the%20text%20to%20the%20Top%20%0A%20*%20%0A%20*%20@param%20txt%0A%20*%20@return%0A%20*/%0Afunction%20leoHighlightsSetExpandTxt%28txt%29%0A%7B%0A%20%20%20try%0A%20%20%20%7B%20%0A%20%20%20%20%20%20var%20topIFrame%20%3D%20_leoHighlightsFindElementById%28LEO_HIGHLIGHTS_IFRAME_TOP_ID%29%3B%0A%20%20%20%20%20%20if%28topIFrame%3D%3Dnull%29%0A%20%20%20%20%20%20%20%20%20return%3B%0A%20%20%20%20%20%20%0A%20%20%20%20%20%20/*%20Get%20the%20current%20url%20*/%0A%20%20%20%20%20%20var%20url%3DtopIFrame.src%3B%20%20%20%20%20%20%0A%20%20%20%20%20%20if%28url%3D%3Dnull%29%0A%20%20%20%20%20%20%20%20%20return%3B%0A%20%20%20%20%20%20%0A%20%20%20%20%20%20/*%20Extract%20the%20previous%20hash%20if%20present%20*/%0A%20%20%20%20%20%20var%20idx%3D-1%3B%20%20%20%20%20%20%0A%20%20%20%20%20%20if%28%28idx%3Durl.indexOf%28%27%23%27%29%29%3E0%29%0A%20%20%20%20%20%20%20%20%20url%3Durl.substring%280%2Cidx%29%3B%0A%0A%20%20%20%20%20%20/*%20Append%20the%20text%20to%20the%20end%20*/%0A%20%20%20%20%20%20url%2B%3D%22%23%22%2BencodeURI%28txt%29%3B%0A%20%20%20%20%20%20%0A%20%20%20%20%20%20/*%20Set%20the%20iframe%20with%20the%20new%20url%20that%20contains%20the%20hash%20tag%20*/%0A%20%20%20%20%20%20topIFrame.src%3Durl%3B%0A%20%20%20%7D%0A%20%20%20catch%28e%29%0A%20%20%20%7B%0A%20%20%20%20%20%20_leoHighlightsReportExeception%28%22leoHighlightsSetExpandTxt%28%29%22%2Ce%29%3B%20%20%20%20%20%0A%20%20%20%7D%0A%7D%0A%0A/* */%0A/*%20Methods%20provided%20to%20the%20highlight%20providers...%20%20%20%20%20%20%20%20%20%20%20%20%20%20%20%20%20%20%20%20%20%20%20*/%0A/* */%0A%0A/**%0A%20*%20This%20will%20set%20the%20expand%20text%20for%20the%20Top%20window%0A%20*/%0Afunction%20leoHL_SetExpandTxt%28txt%29%0A%7B%0A%20%20%20try%0A%20%20%20%7B%0A%20%20%20%20%20%20_leoHighlightsDebugLog%28%22leoHL_SetExpandTxt%28%29%20%22%2Btxt%29%3B%20%20%20%20%20%20%20%20%20%20%20%20%0A%20%20%20%20%20%20_leoHighlightsSimpleGwCallBack%28%22LeoHighlightsSetExpandTxt%22%2C%22expandTxt%22%2Ctxt%29%3B%20%20%20%20%20%20%0A%20%20%20%7D%0A%20%20%20catch%28e%29%0A%20%20%20%7B%0A%20%20%20%20%20%20_leoHighlightsReportExeception%28%22leoHL_SetExpandTxt%28%29%22%2Ce%29%3B%20%20%20%20%0A%20%20%20%7D%0A%7D%0A%0A/**%0A%20*%20This%20will%20redirect%20the%20top%20window%20to%20the%20passed%20in%20url%0A%20*%20%0A%20*%20@param%20url%0A%20*%20@param%20parentId%0A%20*%20@return%0A%20*/%0Afunction%20leoHL_RedirectTop%28url%2CparentId%29%0A%7B%0A%20%20%20try%0A%20%20%20%7B%20%0A%20%20%20%20%20%20try%7B%0A%20%20%20%20%20%20%20%20%20var%20domain%3D_leoHighlightsGetUrlArg%28window.document.URL%2C%22domain%22%29%0A%20%20%20%20%20%20%20%20%20var%20keywords%3D_leoHighlightsGetUrlArg%28window.document.URL%2C%22keywords%22%29%0A%20%20%20%20%20%20%20%20%20var%20vendorId%3D_leoHighlightsGetUrlArg%28window.document.URL%2C%22vendorId%22%29%0A%20%20%20%20%20%20leoHighlightsReportEvent%28%22clickthrough%22%2C%20domain%2Ckeywords%2C%20vendorId%29%3B%0A%20%20%20%20%20%20%7Dcatch%28e%29%7B%0A%20%20%20%20%20%20%20%20%20_leoHighlightsReportExeception%28%22leoHL_RedirectTop%28%29%22%2Ce%29%3B%20%20%20%20%0A%20%20%20%20%20%20%7D%0A%20%20%09%09%0A%20%20%20%09_leoHighlightsRedirectTop%28url%29%3B%0A%20%20%20%7D%0A%20%20%20catch%28e%29%0A%20%20%20%7B%0A%20%20%20%09_leoHighlightsReportExeception%28%22leoHL_RedirectTop%28%29%22%2Ce%29%3B%20%20%20%09%0A%20%20%20%7D%0A%7D%0A%0A/**%0A%20*%20This%20will%20redirect%20the%20top%20window%20to%20the%20passed%20in%20url%0A%20*%20%0A%20*%20@param%20url%0A%20*%20@param%20parentId%0A%20*%20@return%0A%20*/%0Afunction%20LeoHL_RedirectTop%28url%2CparentId%29%0A%7B%0A%20%20%20leoHL_RedirectTop%28url%2CparentId%29%3B%0A%7D%0A%0A/**%0A%20*%20This%20will%20redirect%20the%20top%20window%20to%20the%20passed%20in%20url%0A%20*%20%0A%20*%20@param%20url%0A%20*%20@param%20parentId%0A%20*%20@return%0A%20*/%0Afunction%20leoHL_RedirectTopAd%28url%2CparentId%29%0A%7B%0A%20%20%20try%0A%20%20%20%7B%20%0A%20%20%20%20%20%20try%7B%0A%20%20%20%20%20%20%20%20%20var%20domain%3D_leoHighlightsGetUrlArg%28window.document.URL%2C%22domain%22%29%0A%20%20%20%20%20%20%20%20%20var%20keywords%3D_leoHighlightsGetUrlArg%28window.document.URL%2C%22keywords%22%29%0A%20%20%20%20%20%20%20%20%20var%20vendorId%3D_leoHighlightsGetUrlArg%28window.document.URL%2C%22vendorId%22%29%0A%20%20%20%20%20%20leoHighlightsReportEvent%28%22advertisement.click%22%2C%20domain%2Ckeywords%2C%20vendorId%29%3B%0A%20%20%20%20%20%20%7Dcatch%28e%29%7B%0A%20%20%20%20%20%20%20%20%20_leoHighlightsReportExeception%28%22leoHL_RedirectTopAd%28%29%22%2Ce%29%3B%20%20%20%20%0A%20%20%20%20%20%20%7D%0A%20%20%20%20%20%20%0A%20%20%20%20%20%20_leoHighlightsRedirectTop%28url%29%3B%0A%20%20%20%7D%0A%20%20%20catch%28e%29%0A%20%20%20%7B%0A%20%20%20%20%20%20_leoHighlightsReportExeception%28%22leoHL_RedirectTopAd%28%29%22%2Ce%29%3B%20%20%20%20%0A%20%20%20%7D%0A%7D%0A%0A%0A/**%0A%20*%20This%20will%20set%20the%20size%20of%20the%20iframe%0A%20*%20%0A%20*%20@param%20url%0A%20*%20@param%20parentId%0A%20*%20%0A%20*%20@return%0A%20*/%0Afunction%20leoHl_setSize%28size%2Curl%29%0A%7B%0A%20%20%20try%0A%20%20%20%7B%0A%20%20%20%09/*%20Get%20the%20clickId%20*/%0A%20%20%20%09var%20clickId%3D_leoHighlightsGetUrlArg%28%20url%2C%22clickId%22%29%0A%20%20%20%09%0A%20%20%20%20%20%20var%20gwObj%20%3D%20new%20Gateway%28%29%3B%0A%20%20%20%20%20%20gwObj.addParam%28%22size%22%2Csize%29%3B%0A%20%20%20%20%20%20if%28clickId%29%0A%20%20%20%20%20%20%20%20%20gwObj.addParam%28%22clickId%22%2CclickId%2B%22_blah%22%29%3B%0A%20%20%20%20%20%20gwObj.callName%28%22LeoHighlightsSetSize%22%29%3B%0A%20%20%20%7D%0A%20%20%20catch%28e%29%0A%20%20%20%7B%0A%20%20%20%09_leoHighlightsReportExeception%28%22leoHl_setSize%28%29%22%2Ce%29%3B%20%20%20%09%0A%20%20%20%7D%0A%7D%0A%0A/**%0A%20*%20This%20will%20toggle%20the%20size%20of%20the%20window%0A%20*%20%0A%20*%20@return%0A%20*/%0Afunction%20leoHl_ToggleSize%28%29%0A%7B%0A%20%20%20try%0A%20%20%20%7B%0A%20%20%20%20%20%20var%20gwObj%20%3D%20new%20Gateway%28%29%3B%0A%20%20%20%20%20%20gwObj.callName%28%22LeoHighlightsToggleSize%22%29%3B%0A%20%20%20%7D%0A%20%20%20catch%28e%29%0A%20%20%20%7B%0A%20%20%20%20%20%20_leoHighlightsReportExeception%28%22leoHl_ToggleSize%28%29%22%2Ce%29%3B%20%20%20%20%20%0A%20%20%20%7D%0A%7D%0A%0A"); // ]]>